Consider garden maintenance services, before you plan to set up a garden, either through necessity or choice, many prefer, low-maintenance gardens, your gardening task should be at a manageable level, this is especially relevant when you are gardening with a disability or gardening in your old age. 
If you are planning to sell or rent your property, the very thought of a high-maintenance garden will discourage buyers. Do not let these thoughts discourage you from growing your garden, experience the joy of life; every time you step into your garden. Follow simple guidelines, for a garden that looks great and is easy to maintain.
Also Read: 7 Helpful Landscaping Tips That Fits Every Property Perfectly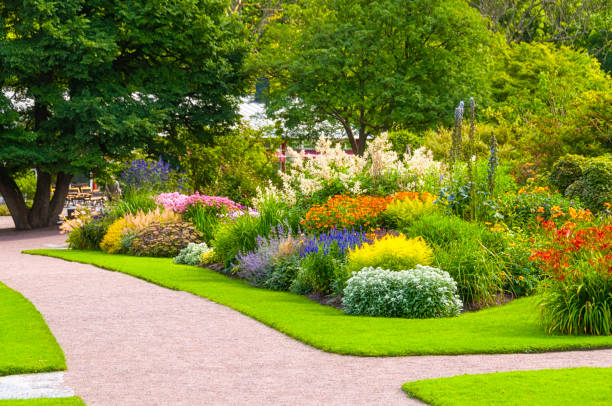 Replace your lawn with a low-maintenance alternative.
Growing a lawn means high maintenance, you need a proper irrigation system in place and plenty of water. Your lawn needs to be mowed every week. Replace your lawn with composite decking or paving. If you are looking forward to decking or paving in Clarence, NY. you can take the help of Soil and Seed Landscaping, or you can take the help of our professional gardening services, to grow a lawn and maintain it, we will do it for you.
Use large pots and planters
Large pots need less watering than smaller patio pots. They are easier to maintain, you can try combining, some similar varieties that need the same amount of water in one large planter. large pots give a sophisticated look to your outdoors and improve the aesthetics of your yard.
Mulch your garden beds 
Mulching stops the growth of weeds and stops water from evaporation, this reduces the need for watering and, you don't have to worry about the weeds, you can use bark chippings or gravel to mulch. Bark chippings give a natural look, while stone gravels are easy to maintain. We can help you with your gardening maintenance, Soil, and Seed Landscaping, in Clarence, NY. provides the best mulching services. Our experts will inspect the lawn and prepare suitable mulch for your lawn. our high-quality mulch maintains the nutrient value of your soil, making it look more vibrant and pleasant.
Plant native shrubs 
Native shrubs need less maintenance, as they are very well adapted to the soil and weather conditions, these plants help the ecosystem, it sustains the birds, bees, and butterflies. A touch of wildlife gives your landscape a natural appeal. Grow a patch of native wild plants, it is self-sustaining to a great extent.
Avoid common planting mistakes 
Too many potted plants look cluttered and are difficult to maintain. Avoid growing too many tender plants, tender plants need intense care, avoid planting in too much shade or extreme sunlight, maintain balance, and take professional help in knowing your plants and their level of need for sunlight.
Take professional help 
If you love the idea of growing a lawn, you can consider a professional landscaping to help you, take care of the maintenance. We can help you set up a sustainable low maintenance garden, for any such gardening and landscaping services in Clarence, NY. you can contact Soil and Seed Landscaping, a one-stop solution for all your landscaping needs! We offer a wide range of services to meet your landscaping needs, from design and Installation to maintenance and cleanup we'll take care of everything contact us today for e free estimate at 716 320 7707.
Also Read: 10 Beautiful Front Yard Landscaping Ideas